5 Game Day Snacks That Score Big Points
5 game day snacks that score big points
easy recipes for every food lifestyle
Bethany Rae, January 28, 2020
Resolutions are tricky enough to stick to without pesky Super Bowl parties throwing a wrench in the works. Luckily, Northern Fork is prepared to skip the football puns and provide you with a helpful list of resolution-friendly recipes that are sure to score a total TOUCHDOWN! (Oops)
    1.25 lb cooked, shredded chicken
    1 tbs olive oil
    ½ medium onion, chopped
    2 cloves garlic, minced
    1 tbs ghee (or other compliant cooking fat)
    ⅔ cup homemade mayo
    ⅔ cup coconut cream
    1 tbs compliant brown mustard
    1 tsp garlic powder
    1 tsp onion powder
    1 tsp dried dill
    ½ tsp smoked paprika
    ⅓ cup compliant hot sauce
    1.5 tbs fresh lemon juice
    Cilantro (for garnish)
Veggie sticks, for serving
Preheat the oven to 350degrees and heat a small skillet on the stove. In the skillet, sauté onions in ghee until softened, then add the garlic and cook, stirring, until just soft. Remove from heat and set aside. In a large mixing bowl, whisk the mayo, coconut cream, mustard, powders and paprika, dill, hot sauce, and lemon juice. Mix in shredded chicken. Add onions and garlic and stir to combine. Transfer to a small casserole dish and bake for 20-25 minutes until the edges bubble and the dip is heated through. Top with cilantro and serve with veggies like cauliflower, petite carrots, and celery sticks. Recipe here.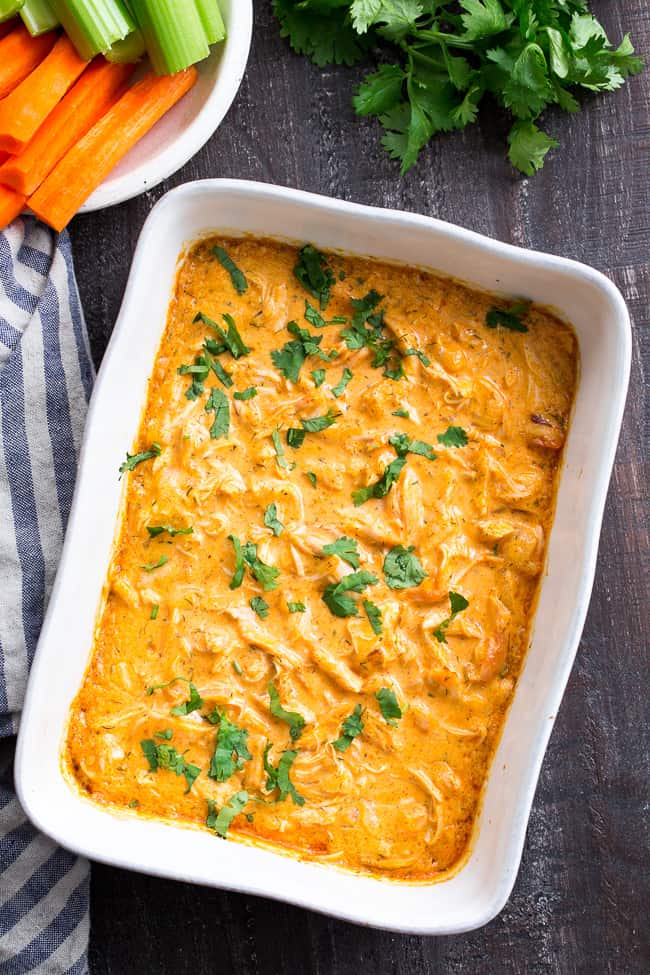 12 bite-sized mushroom caps, cleaned with stems removed
    ¾ lb ground italian sausage
    goat cheese crumbles
Preheat the oven to 350degrees and make sure your mushroom caps are cleaned and thoroughly dried. Use a small tablespoon-sized cookie scoop to scoop the ground sausage and shape into meatballs- which fit into the inverted caps. Using the sharp tip of a knife, twist into the top of the meatball- creating a hole. Press a cheese crumble into the hole and line a cookie sheet with prepared mushrooms. Bake for 15-20 minutes or until the meatball is cooked through. Recipe here.
    2 cups shredded cheddar
    1 tbs extra virgin olive oil
    1 small onion, chopped
    3 cloves garlic, minced
    1 lb ground beef
    1 tsp chili powder
    ½ tsp ground cumin
    ½ tsp paprika
    Kosher salt
    ground pepper
    sour cream, diced avocado, chopped tomatoes, cilantro (for serving)
To make the cheddar cups: preheat the oven to 375degrees. Line a cookie sheet with parchment paper and spoon the shredded cheddar into a dozen 2tbs sized mounds, a few inches apart. Bake for about 6 minutes until they've just melted and started to turn golden. Remove from oven and grease a muffin pan with cooking spray. Carefully lift each melty cheese slice and place into each muffin hole, using hands to mold into the shape of the cup. Allow to cool for 10 minutes. In a skillet, heat the oil and begin to cook the onions until soft. Add garlic and cook a few minutes more. Lastly, add the ground beef, breaking apart with the spoon until no longer pink. Drain fat and season with remaining spices. Fill the cheese cups with taco meat and toppings. Recipe here.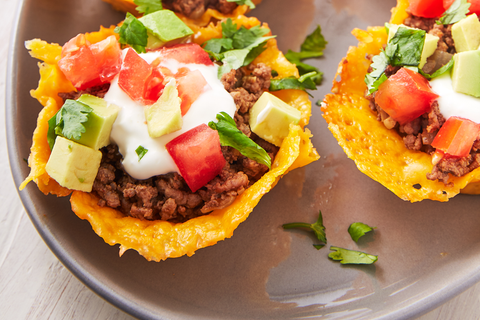 12 oz jar of pizza sauce
    1 tomato, thinly sauce
    ¼ cup sliced olives
    2 tbs fresh basil, chopped
Mushroom Saute
    2 tsp olive oil
    ½ medium onion
    8 oz mixed mushrooms, sliced
    ¼ tsp dried thyme
    ¼ tsp salt
    ¼ tsp red pepper flakes
"Mozzarella Cream" Sauce
    ⅓ cup raw cashews, soaked in warm water
    1.5 tbs tapioca starch
    1 tbs potato starch
    2 cloves roasted garlic
    1 tsp lemon juice
    2 tsp extra virgin olive oil
    ½ tsp white miso
    ½ tsp salt
    1 tbs nutritional yeast
    ¾ cup + 2 tbs water
To make the mushroom and onion sauté, heat oil in a skillet over medium heat and cook onions for 2 minutes. Add mushrooms and toss well. Cook, partially covered, for 7 minutes- add thyme, salt, and pepper flakes. Stir and cook another few minutes until golden. Set aside. Next, drain the cashews and blend, along with next 9 ingredients, to make your "mozzarella" cream sauce. To assemble, preheat the oven to 400degrees and layer the dip in a loaf pan, as follows: ½ pizza sauce, ½ mozzarella cream, then all of the mushroom mixture. Then the remaining pizza sauce, mozz cream, and sliced tomatoes. Top with sliced olives and bake for 25 minutes until heated through. Once finished, top with chopped basil and additional pepper flakes, if desired. Serve with crusty garlic bread or pita chips. Recipe here.
    4 ears sweet corn (or 2 cups corn kernels)
    1 egg
    2 tbs flour (alternative flours optional)
    ¼ tsp fine sea salt
    oil, for frying
Remove kernels from the cobs using a sharp knife. In a bowl, beat the egg and add the corn kernels. Sprinkle with flour and salt, stir to combine well. Cover and chill for 30 minutes. Meanwhile, heat a good ¼ inch of oil in a deep skillet until it reaches 350-375degrees (a dollop of batter should sizzle upon touching the oil). Drop generous spoonfuls of corn batter into the hot oil and gently flatten with the back of a spoon. Cook until the fritters have browned deeply on one side. Flip and cook until the other side browns as well (about 4 minutes each side). Transfer the fritters to a paper towel- lined plate. Repeat until all fritters have been fried. Serve immediately (or keep warm in a 250degree oven) along with sour cream or salsa. Recipe here.
For easy, inexpensive decor ideas, check out Sugar and Cloth's DIY Turf Placemats and Coasters!
Or really go for it and check out The Inflatable Snack Stadium!
For fun, clever party game ideas, check out Just a Girl and Her Blog's Commercial Bingo!
And for a delicious, engaging party dessert, check out Cooking with Curls's Sundae Bar!
Take your gameday party to the next level by renting tables, chairs, and servingware from Chicago's event rental experts: Tablescapes and let Northern Fork TACKLE the rest! (We had to!)